If seeking thrill, feeling the rush and embarking on adventures is on your bucket list, UAE is just right for you. Step outside the shiney luxurious malls and crazy skyscrapers into the fresh air and create lifetime memories with the best outdoor activities in UAE like hot air balloon, skydiving and Dubai helicopter tour.
Experience the exciting outdoor activities in UAE
The UAE might literally spoil you for choice when it comes to fun outdoor activities. With many brilliant things to do, the hardest part will be choosing what to do. Here are the top picks for outdoor entertainment that guarantee an amazing time!
Hot Air Balloon

Ziplining

Dune Bashing

Jet Skiing

Skydiving

Jebel Hafeet Hike

Spotting Dolphins at Jumeirah 

Dubai Helicopter Tour

Indoor Skydiving 
Hot air balloon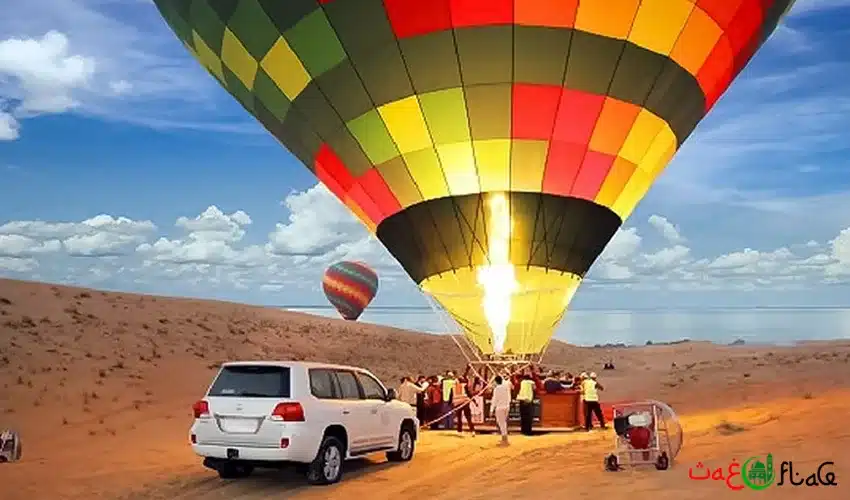 Hot air balloon rides are one of the best outdoor activities in UAE that one must experience. It's something that every traveler needs to do when in Dubai. Imagine flying several hundred feet above the land and having a bird's eye view of the dunes, the Persian Gulf, and the landmark buildings. 
Go for it the first thing in the morning amidst the rising morning sun followed by a delicious gourmet breakfast. A hot air balloon is a great idea to have a relaxing yet fun time with your close ones! 
Ziplining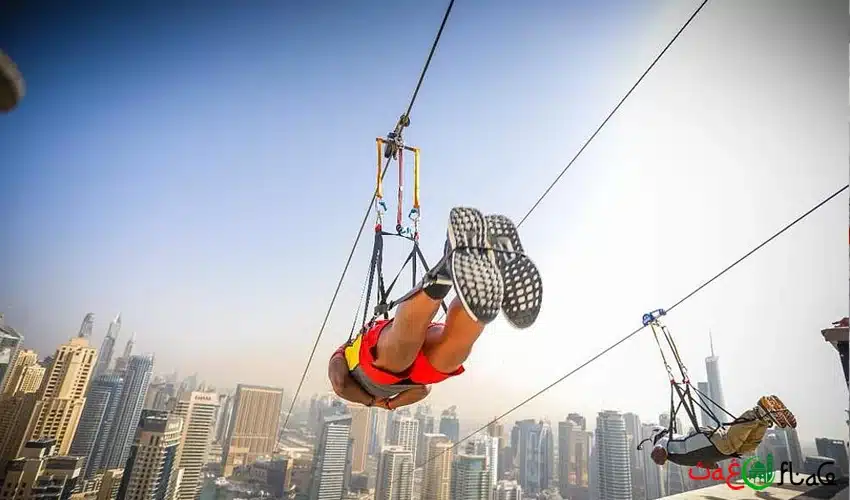 Jais Flight, the longest zipline in the world will give you the 3 best minutes of adrenaline-pumping adventure at 1680 metres above the Arabian Gulf. Located atop the cloud-piercing Jebel Jais peak in Ras Al Khaimah, this outdoor activity in Abu Dhabi is great to feel that superhero magic! 
Wear the oversuit and superhero-style harness to fly 2.83 km aerodynamically at elevated speeds to have the best rush of your life and a once in a lifetime experience.
Dune bashing
Desert Safari package offers six hours of untainted fun.
Dune bashing is one of the other outdoor activities in the UAE. Suitable for as little as a 3-year-old, this is the best family adventure sport as well. Get inside the SUV and ride at a high speed, bashing the dunes and having a great time. This can also be combined with a desert safari.
Experience the rush as your car hits the sand and goes up and down. This adrenaline-inducing adventure lets you explore the massiveness of the golden sands and capture magnificent desert landscapes and unbelievable views.
Jet skiing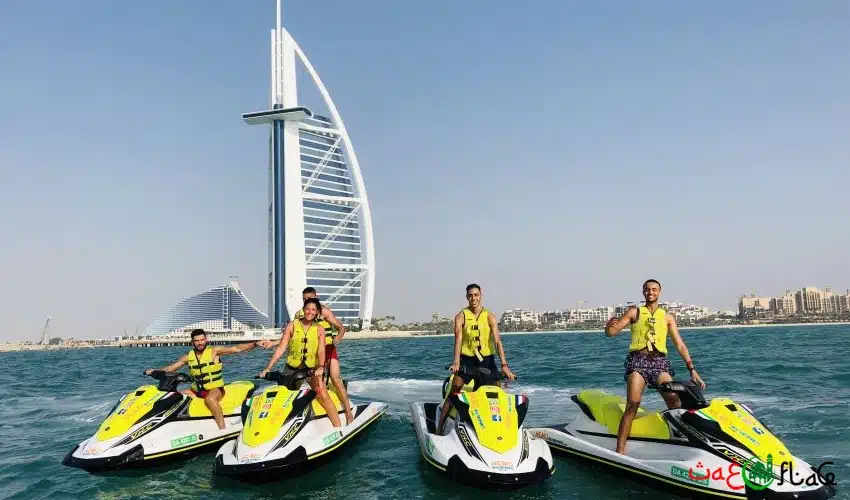 Many Jet Skiing enthusiasts head to Dubai for their favourite UAE outdoor activities. There are many stunning sites for skiing for a whole hour over the gorgeous waves. Before starting, you're given a detailed guide on how to ride a jet ski along with other safety measures. 
Jet skiing in Dubai is also great for enjoying the sightseeing in the city. Set your speed and roam the sea near Dubai on your jet-skiing adventure tour.
Skydiving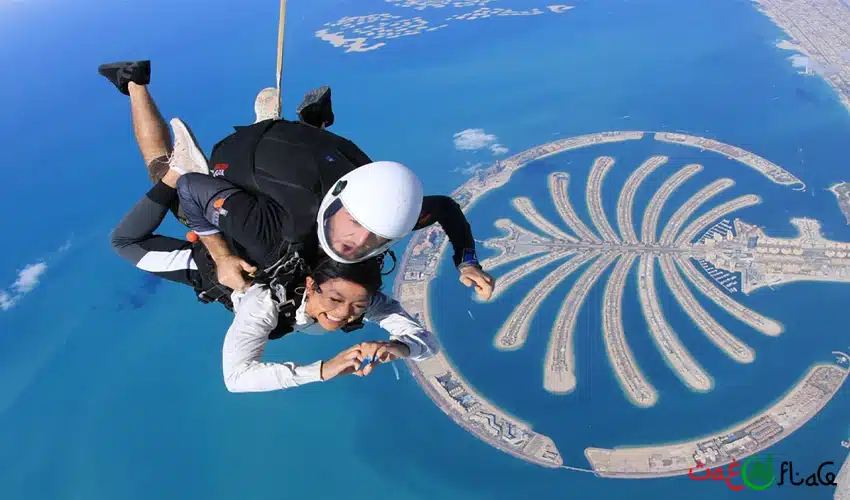 No, we won't skip one of the world-famous UAE outdoor activities. You jump off a  plane and feel the adrenaline rush. Individuals above 18 years of age can freefall from 13,000 feet over the beautiful Palm Jumeirah for 60 seconds. 
The experience includes photos and videos to treasure the memories. And fear not, you will be in the safe hands of highly experienced and trained staff. Free-falling through the air and watching the Palm getting bigger with every passing second is an unbeatable experience. Several expert skydivers have even done stunts to paint the UAE flag in the sky. 
Jebel hafeet hike
Hiking Jebel Hafeet is among the famous outdoor activities in Abu Dhabi. The peak of 1,240 metres is not for beginners. Experienced hikers who can manage the steep routes and challenging terrain will have a time of their life here. It's advised to start early morning or evening to avoid the heat. 
Have your sturdiest boots, hiking poles, and snacks for the route. Jebel Hafeet is the only mountain range in the UAE and being over 40,00 feet, it becomes the country's highest.
Spotting dolphins 
If you would love to spot the super adorable dolphins, plan a day to Jumeirah at Saadiyat Island Resort. As much as 700 humpback dolphins can be found near the Abu Dhabi coast . This number is the largest in the world. 
Don't forget to carry a pair of binoculars while you're on your way to your hotel along that shorefront. Taking an up-close look at the Dolphins is one of those outdoor activities in Abu Dhabi that anyone can enjoy regardless of age.
Dubai helicopter tour
The Helicopter ride in Dubai offers an unforgettable experience to the tourists covering the Burj Khalifa, Burj Al Arab and Palm Jumeriah. Apart from giving the most stunning aerial view of the world-renowned skylines, the helicopters tours are also perfect for birthday and anniversary surprises. 
The iconic tour is about 12 minutes long and can have as many as 5 passengers. The helicopter ride is a UAE outdoor activity combining luxury and thrill.
Indoor Skydiving 
What if we tell you that you don't need to be hundreds of feet above the ground for skydiving? iFLY in Dubai lets you fly up to 3 meters in the air with the help of vertical movements created by a fan device. There's no training required. 
You will have the necessary safety equipment and a professional during the move. This UAE outdoor activity is a famous tourist attraction and anyone older than 3 years of age can experience it.
Age limit for UAE outdoor activities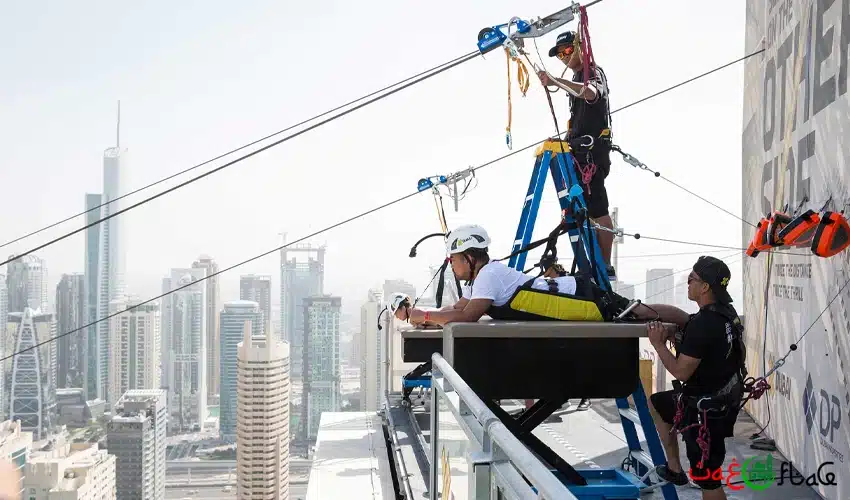 While the outdoor activities are mostly enjoyed with friends and family, there are certain age restrictions to be followed while planning them. 
| | |
| --- | --- |
| ACTIVITIES | MINIMUM AGE LIMIT |
| Hot Air Balloon | More than 5 years and less than 80 years |
| Skydiving | 18 years and above |
| Ziplining | More than 12 years and less than 65 years |
| Dune Bashing | More than 3 years |
| Jet Skiing | More than 14 years |
| Jebel Hafeet Hike | Preferably experienced hikers |
| Spotting Dolphins at Jumeirah  | No age limit |
| Dubai Helicopter Tour | More than 2 years |
| Indoor Skydiving  | More than 3 years |
Next adventure destination: UAE
We hope this article could give you an idea for planning your adventure vacation in the Emirates. The UAE outdoor activities offer you world-class experience, innovation, technology and safety. With so many amazing options, be sure you won't run out of things to do. Have fun like never before and spend a memorable time with your friends and family.