Every day, a lot of people have to travel from Dubai to Abu Dubai and vice versa. There are different routes and locations where passengers can get on these buses. People often look for car lift options to travel between these two emirates, which is expensive. So, here is a detailed guide about Dubai to Abu Dhabi bus timings 2022. You can find all the latest and updated routes here.
Bus timing Dubai to Abu Dhabi
The average travel time from Dubai to Abu Dhabi on the bus is from 2 to 3 hours, depending on the traffic conditions. A similar path takes only 1.5 hours going directly by car, but there is a significant difference between the charges. There are two bus routes and three intercity bus routes that all go to Abu Dhabi by covering different routes and timings. Take a look at the information presented below to see Dubai to Abu Dhabi bus timings for 2022.
| Bus Name | Timings | Frequency | Depart from |
| --- | --- | --- | --- |
| E100 | Every 20 minutes | 2 hours 13 minutes | Al Ghubaiba Station |
| E101 | Every 40 minutes | 1 hour 30 minutes | Ibn Battuta Bus Station 8 |
| E102 | Every 40 minutes | 2 hours | Al Ghubaiba station |
Dubai to Abu Dhabi bus timings
There are two stations from where you can find direct buses from Dubai to Abu Dhabi. These buses are always present at these stations, and they leave after every half an hour or so. Here is the information about all the metro stations from where you can find these buses.
Al Ghubaiba Bus Station
Al Ghubabiba bus station is located in Bur Dubai. To reach Bur Dubai, passengers have to take the green line from Burjuman Metro Station in Red Line.
Ibn Buttuta Bus Station
People who live on the other side can opt for Ibn Battuta Station, which is near the Battuta Mall and Dubai Marina. Metro Red line also goes to this station. From here, you can find the buses that go directly to Abu Dhabi.
Intercity bus routes
There are three bus routes for the intercity buses. Here are the fare prices, bus numbers, and Dubai to Abu Dhabi bus timings. All of these buses are operated by RTA and use Nol Cards as the mode of payment.
E100 Bus
The route of E100 starts from Al Ghubaiba Bus Station and ends at Abu Dhabi bus station. Total travel time is from 2.5 to 3 hours.
Timings
This bus is operational from Sunday to Wednesday. It starts at 4.30 AM and then the last bus leaves at midnight. For the weekend, the last bus leaves at 1 AM. After every 15 minutes, this bus leaves within this time frame.
E101 Bus
Dubai to Abu Dhabi bus timings 2022 with E101 bus starts from Ibn Battuta bus station. The journey ends at Abu Dhabi central station. This is a fast route in comparison to the E100 bus as it only takes 1.5 hours to 2 hours. This route and bus stopped in the past, but then the route resumed in September 2022. At this time, this is the most common route that the passengers are taking.
Timings
Dubai to Abu Dhabi bus timings 2022 of E101 is from 4.45 AM till 11.15 PM from Sunday to Wednesday. There are different bus timings for all the other days; take a look at the details below:
Sunday to Wednesday – 4.45 AM till 11.15 PM
Thursday – 4.15 AM till 1.15 AM
Friday – 5.15 AM till 1.45 AM
Saturday – 5.45 AM till 0.15 AM.
This bus leaves after every 20 minutes; you can find it easily at the station.
E102 Bus
Abu Dhabi to Dubai bus timings 2022 shows the updated version of the route. The E102 bus route also starts from Ibn Battuta bus station, and it ends at Mussafah Shabiya Bus Station, which is located in Abu Dhabi. This is perfect for all those people who live near Mussafah. It only takes around 2 to 2.30 hours for the entire journey to be completed.
This bus also has a stop at Abu Dhabi International Airport. People who have flights from Abu Dhabi and live in Dubai can easily travel by bus. It only takes 1.5 hours to reach the Airport stop.
Timings
Sunday to Thursday – 5.30 AM till 10.30 PM
Friday – 6.30 AM till 11.30 PM
Saturday – 5.30 AM till 10.30 PM
Running time: Leaves every hour
Bus fares and ticket prices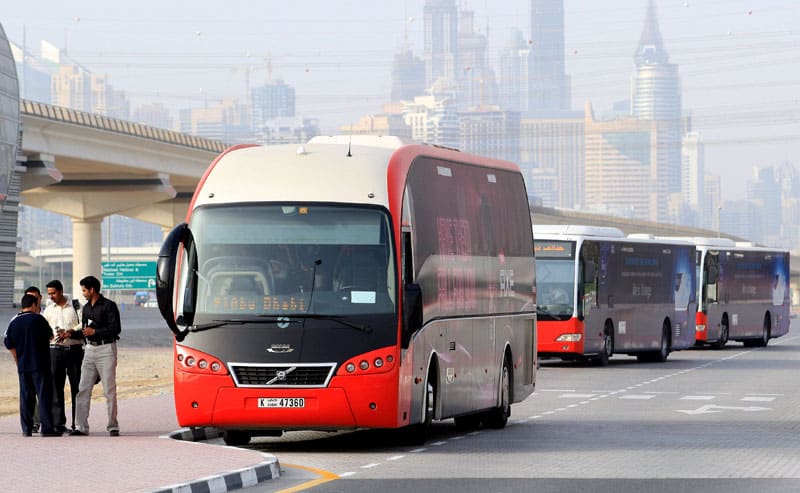 The prices vary from the station you get on the bus. All the passengers that start their journey from the Ibn Battuta mall or from Al Ghubaiba have to pay AED 25 for one side. All the buses that are mentioned above have similar rates.
The payment method that is used on these buses is through Nol Card. Passengers can easily buy it from any of the Metro stations. In case you are at a bus station, then these bus stations also have the service of selling the Nol Cards to people. In case you do not have a Nol card and when to travel buses from Dubai to Abu Dhabi, then you can get a paper ticket from any of the ticket offices. The price of this paper ticket is similar.
Bus alternatives to travel from Dubai to Abu Dhabi
There are also some alternatives to the accessible routes that are mentioned above. Some of these routes are expensive, and some take a long time. Here are the alternatives to make a final decision about your traveling.
Multiple buses
There is an option where the passengers have to change the buses during their travel. The route starts from Global Village. Bus 294 leaves five times a day from which people have to get off at the Sustainability Expo Rider Gate 3. This journey takes 45 minutes. From the Sustainability station, take another bus that is 500, travel for 31 minutes, and then get off at Jubilee Park 3 station.
Individuals have to walk from here to the Mobility Expo Rider Gate 3, which is not a long walk. From there, get on the bus 313 and then further travel for 1 hour 45 minutes. Due to the frequent change of the buses, the charges are a little high. A person has to pay a minimum of AED 30 and a maximum of AED 44, depending on the station he starts the journey from.
Taxi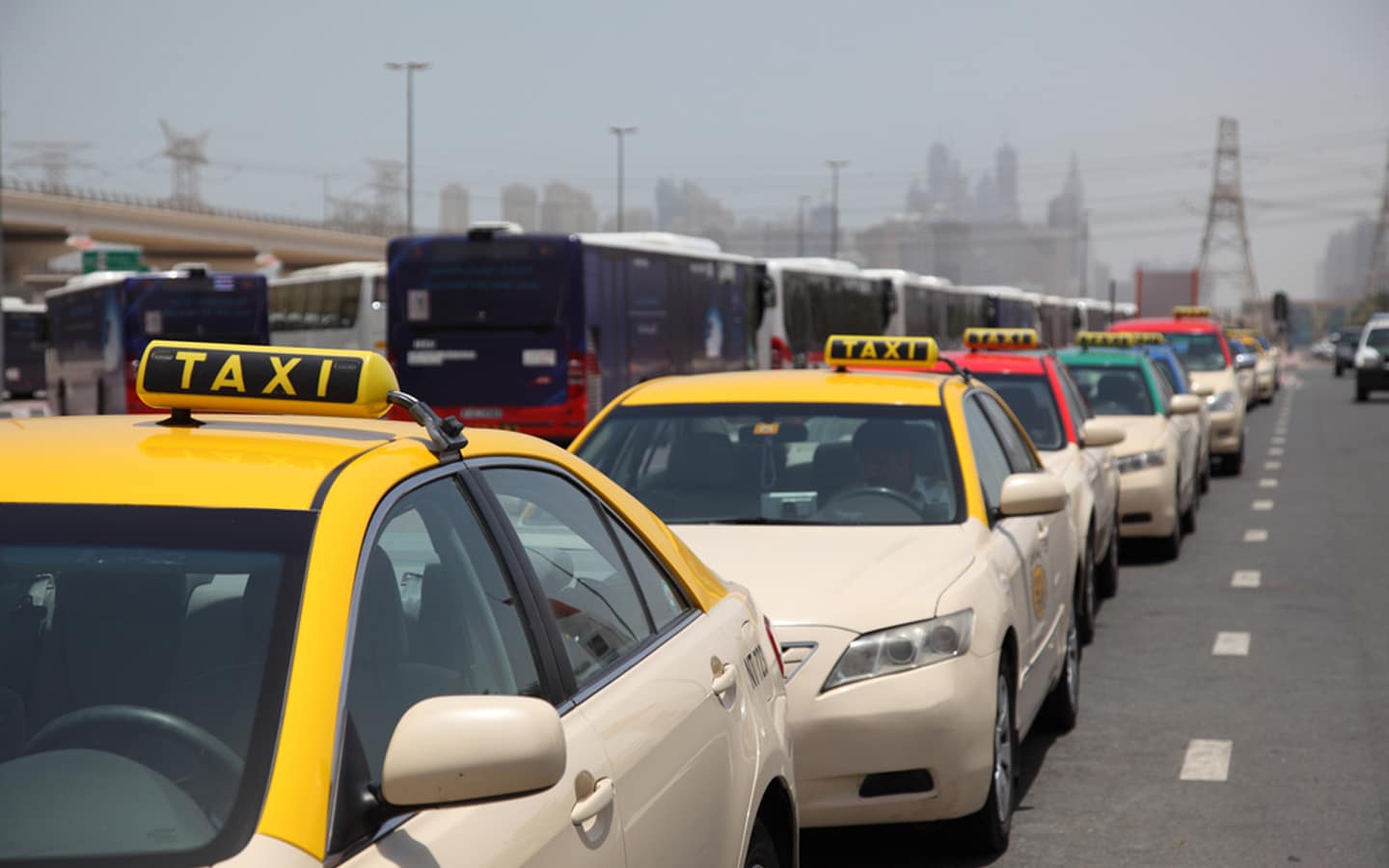 This is the best option for people who are in a hurry. The distance between the two states is approximately 135 km. Without traffic, by taxi, it only takes 1 hour and 15 minutes to safely reach the location. One thing is that it is a little expensive. Depending on the traffic situation, one side can cost around AED 230 – AED 280.
Own car
Some passengers prefer to drive in their own car. This costs AED 50 to AED 80 for fuel, depending on the car's mileage. In case you have your own car, then prefer to opt for this method. The reason is that in Abu Dhabi, having your own car will also ease your daily travel.
Are there other Intercity bus routes?
The best thing about public transport in the United Arab Emirates is that people can travel by bus easily. You can find multiple buses that have the route from Dubai to Sharjah, Dubai to Al Ain, and Dubai to Fujairah. The cost of these buses is different because of the location covered.
Here are some of the estimated prices of these other intercity routes.
Dubai to Ajman- 15 AED
Al Ain to Dubai and vice versa – 25 AED
Dubai to Fujairah – 25 AED
Sharjah to Dubai and vice versa – 10 AED
Dubai to Abu Dhabi bus timings 2022 – best option to travel
People who live on a budget or who have to travel very frequently buses from Dubai to Abu Dhabi or vice versa should opt for these buses. Passengers save a lot when they opt for these RTA buses. One thing you all need to know about Abu Dhabi is that most traveling is done through taxis and cabs. The famous places are pretty distant from the stations, so people prefer getting a taxi. For this reason, people prefer traveling in buses from Dubai to Abu Dhabi to save on the cost that is later utilized in cabs.