As the summer heat reaches scorching temperatures in the UAE, residents can now escape the sweltering weather and indulge in a winter wonderland at Abu Dhabi's newest attraction. Snow Abu Dhabi, the capital's first indoor snow park, has officially opened its doors in Reem Mall on Reem Island, welcoming visitors starting from June 8.
Mohammad El Etri, Vice President of Global Snow at Majid Al Futtaim Entertainment, highlighted the uniqueness of Snow Abu Dhabi, stating, "What's unique about Snow Abu Dhabi is that it is one of the largest indoor snow parks in the world."
With a wide range of attractions designed for children, youngsters, and families, the park offers an ideal setting for quality time and unforgettable experiences. After enjoying the cold adventures, visitors can warm up at cozy restaurants offering delectable food and beverages.
Operated by Majid Al Futtaim Entertainment, Snow Abu Dhabi spans a massive 100,000 square feet and boasts more than 20 exhilarating rides and attractions. Step into a world maintained at a chilling -2ºC, where you can embrace the thrill of snow without having to rummage through your closet for winter clothes. The park provides snow jackets, boots, gloves, caps, and warm socks in various sizes to cater to all age groups.
The grand inauguration ceremony was attended by esteemed guests, including Saleh Mohamed Al Geziry, Director General of Tourism, Department of Culture and Tourism, Abu Dhabi; Ignace Lahoud, CEO of Majid Al Futtaim Entertainment; and Mohammad El Etri.
As Majid Al Futtaim Entertainment continues to expand its presence across the region, Snow Abu Dhabi follows the successful launch of Snow Oman just six months ago.
Embracing an "Enchanted Forest" theme, Snow Abu Dhabi transports visitors to a whimsical world covered in frost. The park features captivating attractions such as the "Crystal Carousel," "Polar Express Train," "Flight of the Snowy Owl," "Snowflake Garden," and the majestic "Enchanted Tree."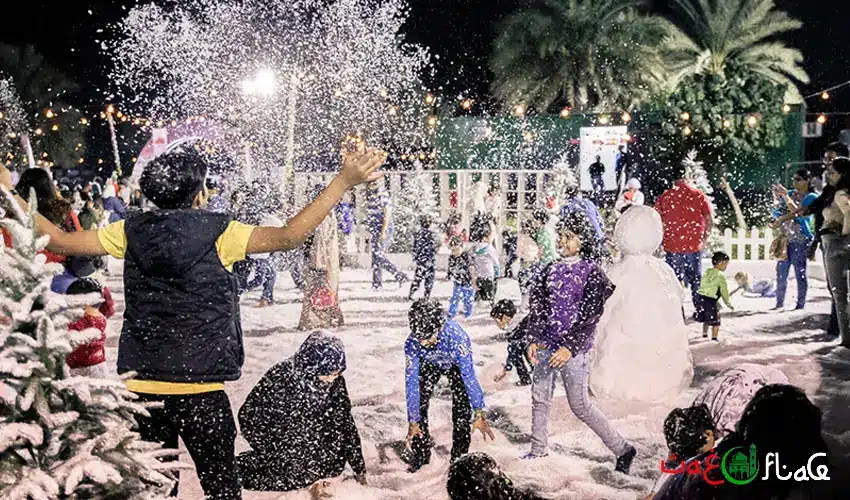 Experience a range of snowy adventures, including sledging, carousels, zorbing, and zip-lining throughout the year. Additionally, three food and beverage outlets provide the perfect setting to savor delicious snacks and dishes surrounded by real snow.
Bruce von Kaufmann, Mall Director of Reem Mall, expressed excitement about the partnership with Majid Al Futtaim, emphasizing that Snow Abu Dhabi will offer visitors the opportunity to escape into a magical winter wonderland. The mall aims to set new standards for customer satisfaction, ensuring that Reem Mall remains a premier destination for both residents and tourists seeking exceptional entertainment in Abu Dhabi.
Snow Abu Dhabi marks Majid Al Futtaim Entertainment's fourth indoor snow park, following the success of Ski Dubai (2005), Ski Egypt (2017), and Snow Oman (December 2022). The park offers a range of packages and passes, with prices starting from AED 215 for the Snow Park Pass, granting unlimited access to all rides, along with fleece gloves and a locker.
Families can also take advantage of the special family pass, priced at AED 860, which includes five passes for the price of four. Snow Abu Dhabi is located on Level 2 of Reem Mall, operating from 10 am to 10 pm Sunday to Thursday and from 10 am to midnight on Fridays and Saturdays.
For more information and ticket bookings, check out reemmall.ae Get ready to experience the magic of a snowy paradise in the heart of Abu Dhabi.